We didn't go to Iceland purely to see the Aurora, but it was right up there on the list of reasons to go. I was
desperate
to see it, and really got my hopes up - which was a bit silly really, because it's never a guaranteed thing. A lot of people think that if you go far enough North then you're in for an epic light show every night.
Not true
. Seeing the Aurora is all about luck, luck and more luck, because there are just so many factors that need to be in place for it to make an appearance, and even then it might not show up!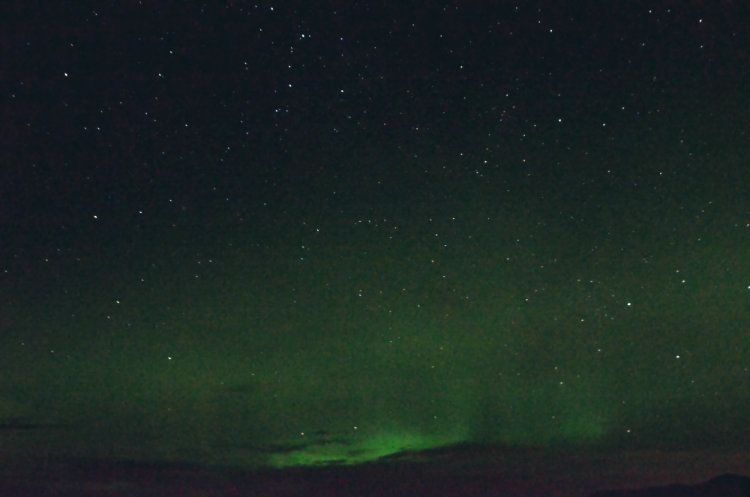 1. Time of Year/Day(/Decade!)
The best time of year to see the lights is September through to March. Because you're heading North and you need total darkness to see the Aurora, you need to visit when you're guaranteed that. Remember that in high latitude countries such as Iceland and Norway, there's no darkness at all from late April through to August.
The lights tend to be most active from around 10pm to 4am, peaking at around midnight. However, it's a waiting game, sometimes they'll appear as early as 6pm, sometimes you might be hanging around all night. Our tour left Reykjavik at 9pm and we didn't see any lights until gone 11pm - but even those weren't as spectacular as the ones we spotted from the coach on the way back. We were sitting on the side of the road watching them dance until gone 2am.
Seeing the Aurora also depends on the Sun. The Sun goes through an 11 year cycle where sun spots and solar flares come and go. Think of it as the sun's 'heart' beating once every 11 years. When it beats, activity on the face of the sun increases. The more restless the sun, the more likely you are to see the Northern Lights. 2013 - 2014 was a Solar Maximum and therefore high latitude sky watchers were treated to fanatastic displays of Aurorae. We visited in January 2013, the perfect time to go!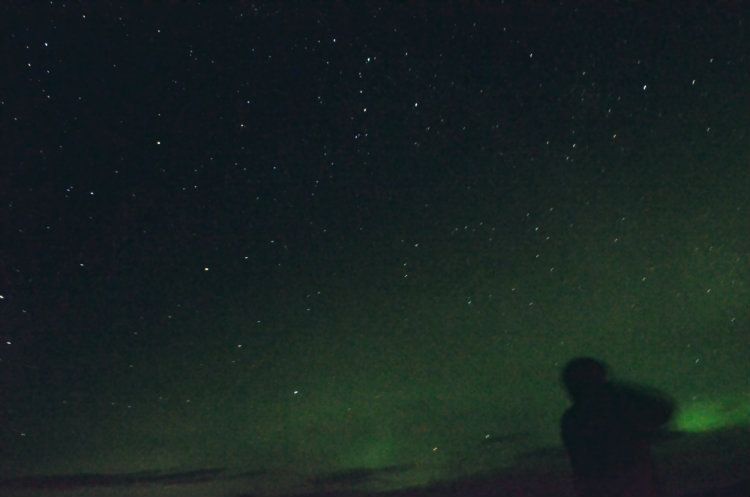 1. Solar Storms
Even still, a solar maximum isn't enough to guarantee seeing the aurora! Be on the look out for solar activity in the form of solar storms. When sun spots appear on the face of the sun there's an increased chance that there'll solar flares and the possibility of something called a Coronal Mass Ejection (CME); a massive burst of electomagnetic radiation into space. If the CME hits earth, even if it's just a glancing blow, then there's the chance of a solar storm and an increased chance of Aurorae.
For the weeks leading up to our trip and the three days we were in Reykjavik I had my eyes glued to two websites;
Space Weather
and
The Icelandic MET Office
. Space Weather keeps track of sun spots and solar flares (and also plots the location of the current Aurora Oval), whereas the Icelandic MET office tracks both solar and Icelandic weather to give a daily scale of 0 to 9 showing the chance of seeing any activity. By watching both these websites I was able to decide which day would be best to go Aurora Hunting. On Sunday evening (our last chance before leaving!) a CME hit Earth and the scale was at 4, so I knew it was going to be our best chance of seeing any lights!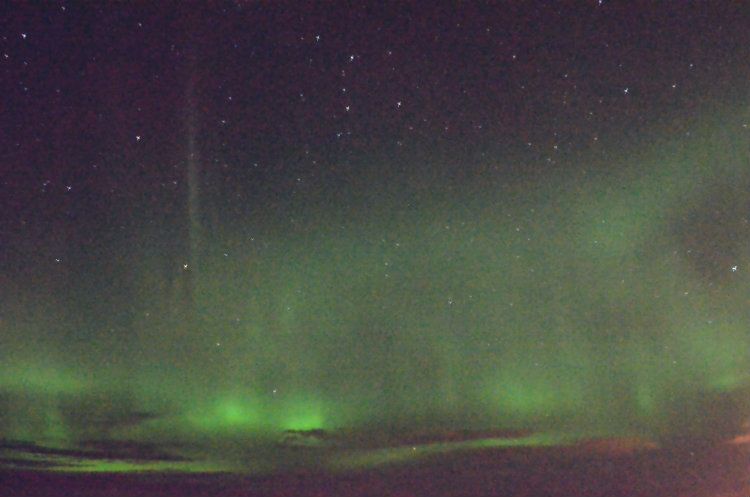 1. Weather
Since the Aurora happens very high up in the Atmosphere, you'll need clear skies if you're in with a chance of seeing anything. Watch the weather and pick a night when those pesky clouds won't get in the way!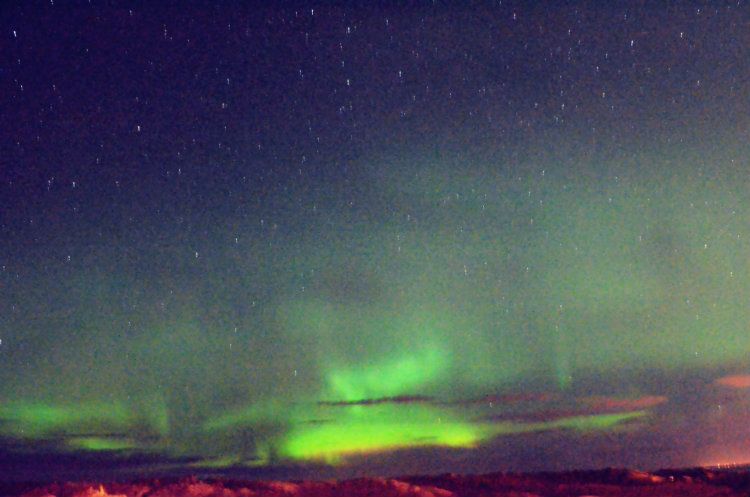 Photographing the Aurora
Photographing the Aurora is another thing altogether. Iceland was the first chance we had to give our new Nikon D5100 a spin, so other than a quick play around with the settings in the hotel room about an hour before the tour we didn't get any extra help. The great thing about taking a camera along is that it's great at spotting what you can't see. When the aurora appears it'll be very faint and cloud-like in appearance (yeah, don't expect the swirling pink and green waves you see in all those time lapse photography shots!). Taking a picture of what you might suspect to be the Aurora is a good way of finding out, since cameras pick up far more than our eyes do. What looks like a grey cloud to you might appear as a bright green burst on your camera!
You'll need a high ISO and a tripod to get the best results. We didn't have a tripod, so I anchored the camera between my thighs, which wasn't too bad an alternative in the end!
This
site seems to have some good tips.