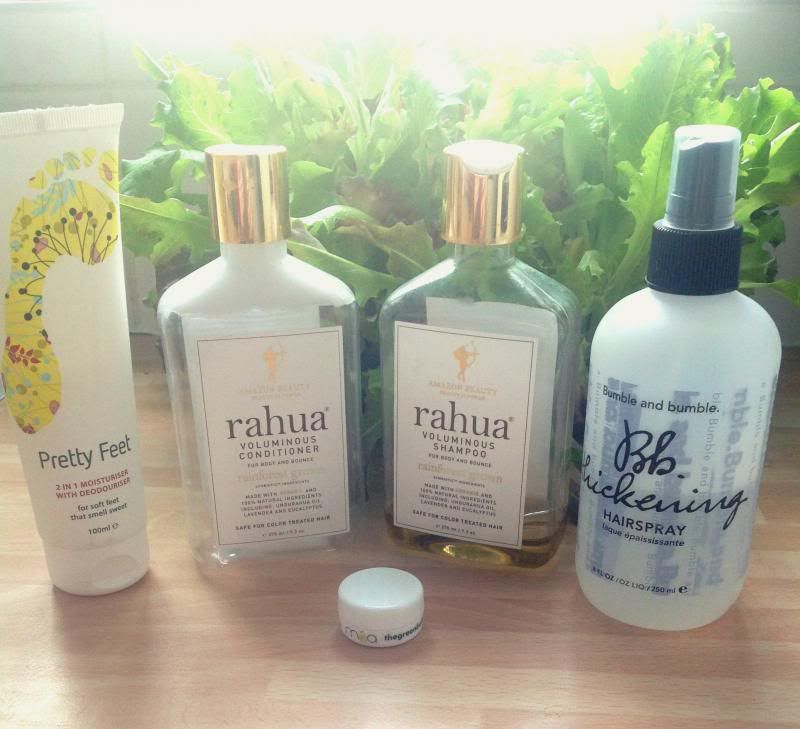 I change my day to day beauty products
a lot
. I'm a bit trampy like that, and it's such a money burner! Hair Products are my ultimate weakness; I'll dump a shampoo three washes in if things just aren't working out (you should see how cluttered our shower is! It's Sunny's Original Source all in one against fifty other bottles...). But I've always got my eyes peeled for 'the one.' The one shampoo, the one moisturiser, the one mascara... A product so awesome that I can call off the search and stick with it. Over the past couple of months I definitely found a couple of keepers, along with one that I'm going to put in the
'meh'
pile.
1. Moa - The Green Balm
I got my teeny tub of Moa free with an order from
Cult Beauty
and instantly fell in love. There is nothing,
nothing
that this balm can't handle! It's 100% Natural (no parabens, no lanolin) and made with Yarrow and Tea Tree Oil and according to Moa's website it can even be stirred into hot water and drank to cure a sore throat (I'll have to take your word for it on that one, Moa...). As far as skin complaints go, this stuff's Incredible Hulk in a pot and I've used it for so many things over the past couple of months, and it's worked like a charm every time. A tiny bit under my eyes at night has gone a long way to improving any dark circles under my eyes, and Sunny's even used it for his dry fingers and eczema to great effect. So impressed was I that I've ordered two 50ml tubs from
Moa's Website
, one for me and one for my Mum. This is a bathroom cabinet MUST.
2. Rahua - Voluminous Shampoo and Conditioner
I'd heard a lot of hype over the interwebs about Rahua, and still on a mission to find something, ANYTHING, to tame my fine, dry hair (Thanks London H2O!), so I went for it and bought both the shampoo and conditioner. Okay. This is a product that has divided many and I can totally see why. There's a lot not to like; the price for one, the size (Don't accept any dinner invitations from Rahua, their portions are kind of stingy...), it's sulphate free so if you've got thick hair it's not going to lather up like most shampoos, and the smell's definitely one you're either going to love or hate. My hair though? LOVES it.
From Rahua.com:

"Cleanses to create body and bounce without the drying effects found in other volumizing lines and is safe for color-treated hair. Rich with organic and 100% natural ingredients. Begin the day with aromatheraputic lavender and eucalyptus to calm and relax the senses. Lemongrass and Green tea create body, volume and bounce by balancing and removing excess oils from the hair shaft, without compromising the integrity of the hair. Citric juices break down oils extending time between washes. Ungurahua oil is rich in Omega-9 and helps to restore, heal, moisturize and strengthen hair follicles and shaft, resulting in stronger, healthier hair."
With my fine hair I don't need to use a lot of the shampoo and I found (to my surprise) that it actually lathered up quite a lot, definitely more than you'd expect for a non-sulphate solution, and I actually really love the smell of lavender and green tea. I'm not sure that it gives my hair any added volume, but bottom line? I really like how it makes it feel; soft, healthy and clean. The condition of my hair has definitely improved since using Rahua. My theory is that the citrus juices do a lot to neutralise hard water and the drying effect it has on hair - which I'm most happy about, because my hair HATES London and its manky water! If you live in an area with hard water, this might be worth a go. I wasn't as bothered about the conditioner, I didn't feel like it did anything fancy for the pricetag, and I found myself reaching for my Aussie Conditioners instead quite a lot.
3. Pretty Feet - 2 in 1 Moisturiser and Deodouriser
I have stinky feet. There, I've said it. After a long day tramping about in ballet pumps, my feet pong. It's probably my least attractive feature (Sunny would say...). So the last time I was in Cardiff, stupidly having brought only one pair of particularly pongy pumps, I picked this bottle up. I'll admit that I was mostly drawn in by the pretty packaging, but I've been really pleased with it and it's worked hard to keep my feet smelling fresh and feeling soft as I've ditched my pumps and moved onto sandals for the summer. The scent is light and fresh (Minty!) and it really sinks into the skin fast (which I love, because I can't stand walking around with greasy feet!).
4. Bumble and Bumble Thickening Hairspray
This doesn't work. I'm halfway through the bottle and I'm done with it. I bought it with high hopes that it would give my hair a little bit of oomf, but this was a Grade A disappointment, which was a surprise to me because a lot of people have raved about it. For a start I really don't like the smell, to me it smells like Jelly Babies drowning in acid, and secondly it doesn't seem to do anything at all! No volume, no thickening effects. I've tried all the thickening products in the Bb range and have had zero luck. I'm moving on to TIGI's Small Talk. Don't feel too bad Bumble and Bumble, my hair's hard to please!